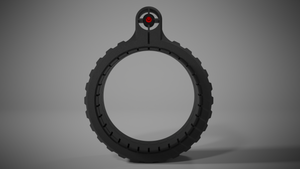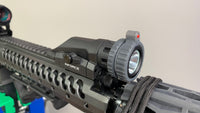 Not enough room?
Iron sights were the earliest sighting device used to assist the accurate aiming of ranged weapons. They are still used today, but optical sights such as reflector (reflex) sights, holographic sights, and laser sights help the shooter acquire a target more efficiently.
Even though optics have become very robust and reliable, there is still a chance that in a time of need, they may not work. Those of us in the shooting community know how things can fail. We are all familiar with the phrase "0ne is none, and two is one."
So, if that dreaded time should ever come, a backup system would be nice to have. For those of you who run a weapon mounted light on your top rail, it is not practical or ideal to run a flip up front post. The Front Post Ring is your solution.
This attachment fits around your light giving you a front post sight. This attachment is perfect for shorter platforms or if you just want a cleaner look. Depending on how you mount your light, there are two different designs to choose from.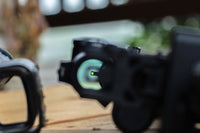 It's better to have it and not need it, than need it and not have it.
The Front Post Ring lines up perfectly with your rear sight.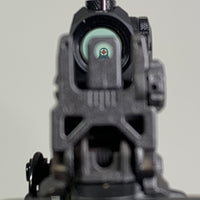 Customer's Pic
The Front Post Ring is a perfect point of reference if your optic goes down.